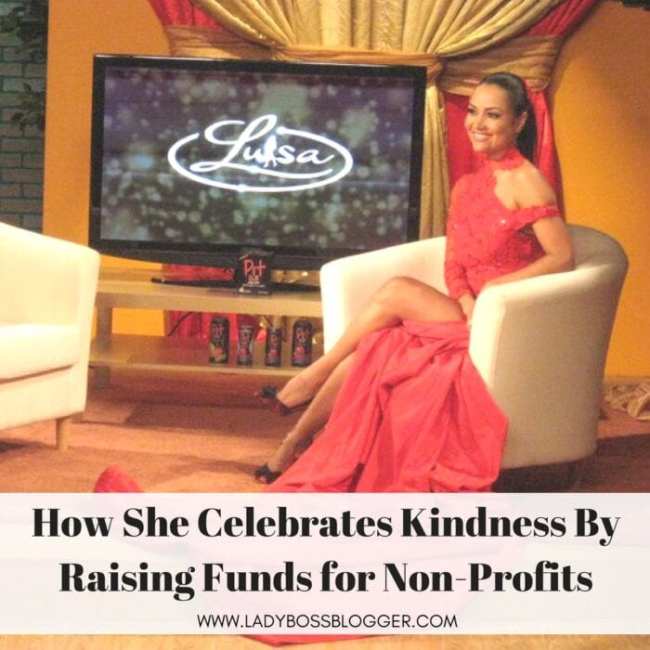 Shortly after winning Ms. Venezuela International, Luisa Diaz moved to the U.S. and earned her B.S. degree in Business Administration with a concentration in Marketing at the University of Tennessee at Chattanooga.
After graduating, Luisa landed a 3-year deal with the local ABC TV affiliate in NC to air her original talk show, Luisa Su Voz Latina, that she wrote, produced, and hosted. Luisa later moved to LA where she worked as an actress and model, acting in national TV commercials and feature films, including Silver Linings Playbook with Bradley Cooper.
Luisa is the founder of Mi Amor Gala, an organization that celebrates kindness and helps raise funds for nonprofits, such as those that help survivors of domestic violence and stop human trafficking.

What motivated and inspired you to start your own business?
I have spent my long career empowering women through a variety of programs and foundations. What motivated and inspired me to write my first book, Sexy is Timeless: Ten Timeless Sexy Assets That Lie Within You, was the work I do with my organization called Mi Amor Gala.
Mi Amor Gala is a celebration of kindness, angels who empower other angels with broken wings through the gift of love. I celebrate the acts of kindness that people do for each other by producing annual galas in order to raise money for a particular charity.
Through my work I partner with nonprofit organizations, such as Safe Passage, which compassionately helps women break the violent cycle of domestic abuse and brings them healing and transformation. After they graduate from Safe Passage's year long rehabilitation program, I come in and coach them for Mi Amor Gala's Empowerment Fashion Show. I work with the Safe Passage graduates to build their self-esteem so they can confidently walk on the Runway of Hope to symbolize their new beginning.
Seeing them realize how beautiful and worthy they truly are has been my greatest satisfaction in life, and it especially motivated me to write my book for women everywhere to realize and never forget about the ten timeless sexy assets that lie within them.
Tell us about your business.
My business brand is about empowering women through my charity events, media influence, and my book. In this new, empowering guide, I show my readers how to survive in this transformative time from a male-dominated society to a female-dominated society while still retaining femininity.
Through my simple advice, I outline ten different characteristics of sexiness that make women feel validated and more assertive. Interestingly, none of these aspects specifically address body type or images of traditional beauty. Instead, I share fun and relatable personal examples of what has worked to improve my own life and the lives of others. My insight and support helps women understand their unique attributes and true self-worth.
List awards/certifications/accomplishments.
Competed in beauty pageants since I was 8 years old in Venezuela.
Won the title of Ms. Venezuela International.
Studied at University of Tennessee at Chattanooga and graduated with a BS in Business Administration with a concentration in Marketing.
Produced and hosted my own TV Talk Show Luisa Su Voz Latina in North Carolina on an ABC and WB local affiliate, statewide in North Carolina, South Carolina, and Virginia.
Directed the Miss North Carolina Latina pageant.
Coached contestants for the Miss Tennessee USA, Miss North Carolina to Miss USA, and Miss Latin America.
Moved to Hollywood to pursue modeling and acting career (Ed Hardy campaign, bikini calendars, runway and editorials, national commercials for Walmart, Home Depot, Ashley Furniture, etc., acted in Oscar-Winning movies such as Silver Linings Playbook and The Fighter).
Produced my Luisa show pilot and the pilot of Latinas of Beverly Hills for Bravo
Founded Mi Amor Gala to raise money for non-profits that stop human trafficking and help survivors of domestic violence (coached graduates of Safe Passage's domestic violence rehabilitation program to walk in our Empowerment Fashion Show, held medicine drive for Venezuela, and have conducted food and toy drives throughout my life).
Moved to NYC and married advertising executive, Alan Brown.
Currently carrying over the work I did in LA to NYC (hosting, modeling, acting, producing, philanthropy).
Wrote and self-published my first book, Sexy is Timeless: Ten Timeless Sexy Assets That Lie Within You.
Continue to be a public speaker for women empowerment events (recently shared a panel at The King's College with US Congresswoman and 2012 presidential candidate, Michele Bachmann).
Where is your business based?
NYC and LA.
What were the first few steps you took to get your business up and running?
My first step to get my business up and running was to hire someone who believed in my vision as my assistant. A good assistant has to be willing to work hard to help you navigate through everything in the start-up process.
What has been the most effective way of raising awareness of your business and getting new customers?
After I laid a strong foundation for what I believed in and made goals for what I wanted to achieve, my next step was to reach out to my friends and other business owners for sponsorships.
What have been your biggest challenges so far?
In my life I have faced many challenges. Two of the greatest challenges that I have ever faced were completing my college education in America without previous knowledge of the English language and airing my Spanish-language talk show, Luisa Su Voz Latina, on an English-only network.
How did you overcome these challenges?
I overcame these challenges with persistence, determination, and a will to never give up. Persistence is the most important quality. Sometimes, things don't go the way you want, but never give up—you can do it, darling.
For instance, when I was learning English at the same time I was beginning my college education, I would come home crying, because my first classes just sounded like noise to me, since I couldn't even identify a word that the professor was saying. However, I did not let that stop me from trying my best to overcome this challenge and achieve my goal of graduating on time with a bachelor's degree in Business Administration and a concentration in Marketing.
I woke up at 5am every morning to study with a dictionary, and I would drown my books in tears. I was also the only student in my classes who took advantage of the professor's office hours. Getting my diploma was the happiest moment of my life, because that knowledge gave me the inner strength that I could accomplish anything to which I put my mind. I gained confidence in the doing.
Right after that I went on to produce my first TV show. As a result of much research and preparation, I was able to convince the ABC affiliate to pick up my Spanish-speaking talk show. After I provided the statistics around the buying power of the Latin community in North Carolina, I asked, "Do you want a slice of that pie?" They did, and my show aired with them successfully for three years.
How do you keep motivated through difficult times?
My faith in God keeps me believing in my passion and gives me the strength to continue pushing through to overcome any difficulty. My passion for empowering others continually motivates me to see the vision for my career even when things get cloudy in my life.
How do you distinguish yourself from your competitors?
I distinguish myself from my competitors by having well-defined standards and boundaries.
Furthermore, my business is about kindness. When I first told people that I was passionate about pursuing kindness with my events, people thought I was crazy, because they though it was unrealistic.
However, Mi Amor Gala's Empowerment Fashion Show sets it apart because of the coaching program I developed to help women recognize their self-worth with the ten timeless sexy assets that lie within them. Domestic violence survivors are transformed as they step into their new beginnings on the Runway of Hope.
As an author, I am distinguished by bringing my readers up to a higher understanding of the human condition and what they can do to better themselves without ever talking down to them.
What is the best advice you have received recently?
The best advice I have received recently has to do with the concept of vision: When your ideas are too readily embraced by the people around you, you probably have not gone far enough. When you receive resistance because people think your idea is too far out there, you know you are on the right track.
Not only do you have to dream big, but you also have to set up your outpost far enough on the frontier in order to get in front of the pursuing market. In this day and age, the world is moving so fast that the opportunity may have already passed you by before you get it off the ground.
What advice would you give to other entrepreneurs?
My advice for women who want to be leaders in the media and entertainment industry, is for them to be at peace with the word "no." You are going to hear that word left, right, and center, so you can't take it personally.
Don't let rejection break your self-esteem. Move on to the next door and keep knocking. I never think of failure—I don't believe in that word. I believe in experiences that teach you how to grow and be better next time.
Remember to have a strong work ethic, persistence, determination, and relatable communication skills. Preparation is key to success. Remember, the harder you work, the "luckier" you become.
Also, it is very important to have strong standards and boundaries in your life, especially in the workplace. Your standards are your personal code based on your understanding of your self-worth. It's all about really understanding what is important to you personally.
Identify and strengthen those inner qualities and values, so you can solidify the foundation of your business. Boundaries protect your standards and let people know how they can treat you. Maintaining your standards and boundaries is key to having respect in the workplace.
What are your favorite business tools/resources and why?
Some of my favorite business tools and resources simply include educational and inspirational books, input from friends, personally researching things on the internet, and social media. Most importantly, I have learned to never take the art of networking for granted.
Living in NYC, I can constantly be exposed to all my personal passions, including entertainment and philanthropy. There are plenty of events in all fields of interest that you can participate in to take advantage of networking with people who share your passion. The key is to meet, greet, take business cards, and be sure to promptly follow up with them.
In this age of technology, the biggest problem is that it's become much too easy to disconnect. However, it's important to remember that relationships are, and will always be, important and integral in shaping your career and future in general.
What is a good article or book you have read recently?
A really good book that I have read recently was Wander Woman: How High-Achieving Women Find Contentment and Direction by Marcia Reynolds. This book talks about how women are over-stressed, because they are trying to juggle multiple roles without having a balance.
My biggest takeaway was how important it is to look into yourself and better understand the needs that drive your decisions in order to find fulfilling direction in all aspects of your life.
What are you currently learning about for your business or looking for help with?
I'm currently learning about successful global branding and the importance of consistent brand attributes customized around local culture. It's interesting how everything is connected within a business brand.
There are so many moving parts that work together to get the message out there and across the world. I seek collaboration with like-minded, passionate people and companies that can enhance my brand message.
What are your goals for the next few months and how are you striving to achieve them?
My main goal for the next few months is to continue driving my message of empowerment with interviews, blogs, panels, book signings, and public appearances at women's organizations.
What social media outlets do you use? List them below.
LinkedIn @luisa-diaz-273a097
Facebook @luisadiaztv, @luisadiazfanpage, @miamorgala, @kindnessiscool
Instagram @luisadiaztv, @miamorgalala, @kindnessiscool1
Twitter @LuisaDiaztv, @MiAmorGala, @kindnessiscool1
YouTube Luisa Diaz, Mi Amor Gala Luisa Diaz
Pinterest @luisadiaztv
Photographer Vincent Chavez
Direct link:
Luisa Diaz Celebrates Kindness By Raising Funds For Non-Profits